Iron ore is the base metal used to make steel – and steel is the most commonly used alloy in the world. From its earliest known uses as a metal in ancient times, iron ore has since undergone a transformation from a relic of the industrial age to the driving force behind a commodity super cycle that has reshaped the global economy.
According to the World Steel Association, steel demand is expected to grow by 1% to 2% per year over the next decade.
Iron ore prices rose to record levels in the year to 2021, hitting $237.57 per ton in May as global demand accelerated amid persistent supply threats – a ripple effect of the pandemic – but have since stabilized around $100 per ton.
Using data compiled by the company Miningintelligence, our latest list of the ten largest iron ore mining companies in the world.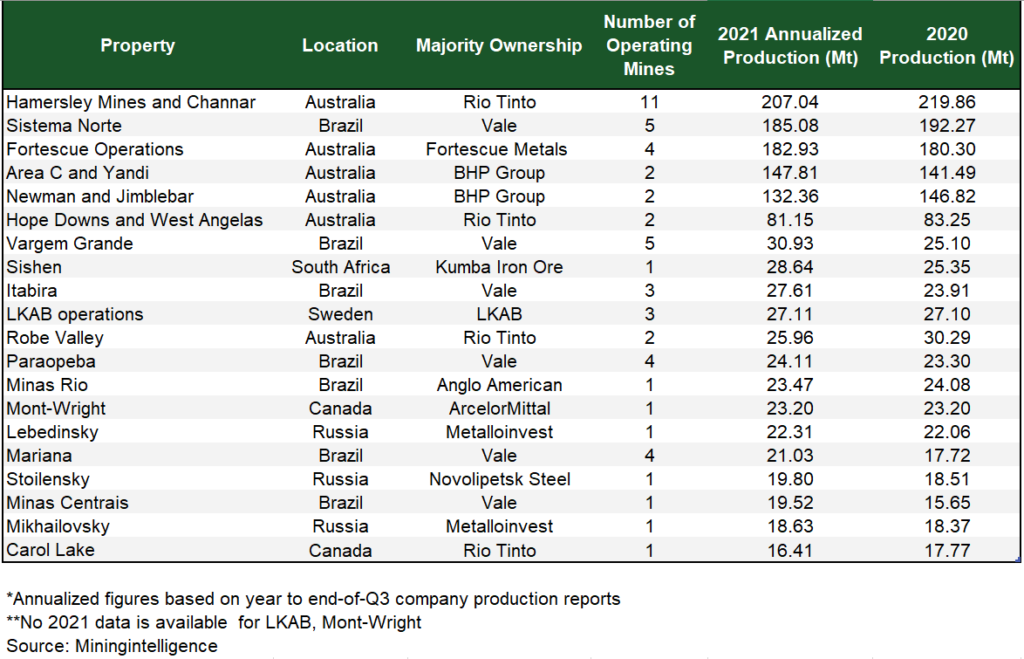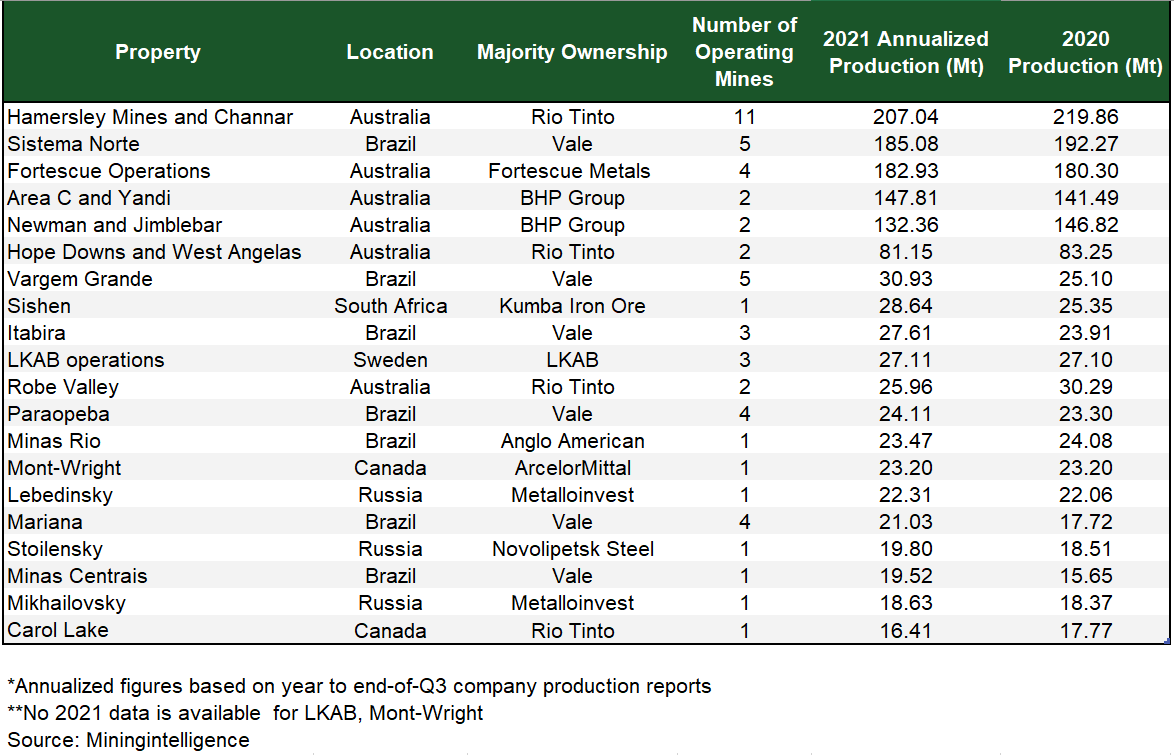 1. Hammersly Mines and Channar
In first place is Rio Tinto's Hamersley and Channar Mines complex with 11 operating mines in the Pilbara region of Australia. Based on figures provided through the end of Q-3 2021, 207.04 million tonnes (mt) of iron ore are forecast for the year. The world's second largest miner came under fire when an inquiry found that Hamersley Iron failed to protect artifacts belonging to the Wintawari Guruma Aboriginal Corporation after last year's explosion. The fallout would be the resignation of top executives, including the CEO, and replacement by leaders with a stronger focus on sustainability..
2. Northern System
In second place is Vale's Northern System in the state of Pará, with 5 mines in operation with a projected production of 185.08mt of ore in the year 2021. In the second quarter, Vale announced and the restart of operations at Serra Leste in the North System. The expansion includes the refurbishment of an iron ore plant that is scheduled to increase Serra Leste's processing capacity to 10 million tons per year by early 2023.
3. Fortescue Operations
In third place are Fortescue Metals' operations in Australia's iron ore-rich Pilbara region, which includes the Chichester, Solomon, Hedland and Western mining centers, where 182.93mt of iron ore is expected in 2021. In December, the world's fourth largest mining company announced that chief executive Elizabeth Gaines will step down as the company extends its transition from an iron ore producer to an energy and green resources company.
4. Area C and Yandi
The world's largest mining company, BHP, comes in fourth place with its Area C and Yandi mines in Australia. In 2021, 147.81mt of iron ore was expected. BHP has the green light to go ahead with a planned expansion of its operations in the Pilbara region, consolidating its presence over the next 50 to 100 years.
5. Newman and Jimblebar
BHP's Newman and Jimblebar mines in Pilbara, Australia, rank 5th with a total of 132.36mt of iron ore projected for the year 2021. A few years ago, a $3.6 billion expansion at Newman and Jimblebar significantly increased the capacity of BHP Pilbara's supply chain.
6. Hope Downs and West Angelas
Rio Tinto's Hope Downs and West Angelas mines in Pilbara, Australia, would have produced 81.15 million tons of iron ore by 2021. Rio Tinto expanded its fleet of operatorless trucks, introducing 15 autonomous vehicles in West Angeles in 2018.
7. Vargem Grande
In seventh place, Vale's Vargem Grande complex with five mines located in Brazil was projected to produce 30.93mt by the year 2021. In a move to reduce dependence on dams, Vale has begun operations at a tailing's filtration plant at the Vargem Grande complex, the first of four that the company plans to install at sites in Minas Gerais at a cost of $2.3 billion between 2020 and 2024.
8. Sishen
Kumba Iron Ore's Sishen complex in South Africa's Northern Cape province is ranked eighth. Based on annualized figures, it was expected to produce 28.64mt of iron ore in 2021. Kumba said in February that it planned to spend 3.6 billion rand to extend the life of the Sishen mine to 2039 through the ultra-dense media separation project, scheduled to start in the second half of 2023.
9. Itabira
Back in Brazil, Vale's three operating mines in Itabira were forecast to produce 27.61mt of iron ore by 2021. Itabira is the site of Vale's first mine. It is also one of the ten cities affected by the collapse of the tailings dam in Brumadinho.
10. LKAB Operations
LKAB Operations in Sweden, owned by LKAB, has three operating mines slated to produce 27.11mt of iron ore by 2021. LKAB upgraded its ore processing capacity a few years ago, adding an RMD system as part of an ongoing program of expansion in an area that has been home to iron ore mining since the mid-18th century.
11. Robe Valley
Rio Tinto's Robe Valley operates at Pilbara in Australia, the Mesa A and Warramboo mines were projected to produce 25.96mt of iron ore in 2021.
12. Paraopeba
Vale's operations in Paraopeba, Minas Gerais, have four operating mines slated for 24.11mt of ore by 2021. In 2019, it began cleaning up the Paraopeba River, which was contaminated that year after a dam broke at the Feijão mine.
13. Minas Rio
Anglo American's giant Minas Rio mine in Brazil was scheduled to produce 23.47 mt of iron ore in 2021. Two years ago, Anglo brought its giant Minas Rio mine up to full capacity after the country's authorities granted it a key permit for the use of an expanded tailings dam at the site.
14. Mont Wright
ArcelorMittal's Mont Wright mine in Quebec, Canada, produced 23.2mt of iron ore in 2021. ArcelorMittal, the world's largest steelmaker, reported its highest quarterly earnings in 13 years in July, beating expectations, and announcing a new share buyback.
15. Lebedinsky
In Russia, Metalloinvest's Lebedinsky mine was scheduled to produce 22.3mt in 2021. Metalloinvest claims the world's largest iron ore company by JORC reserves, as its economically recoverable iron ore reserves total 15.4 billion tons.
16. Mariana
Vale's Mariana mining hub in Brazil consists of four mines, and is expected to produce 21.03mt of iron ore in 2021.
17. Stoilensky
Novolipetsk Steel Company's Stoilensky mine in Russia is number 16 in terms of production, forecast to produce 19.80mt of iron ore in 2021.
18. Minas Centrais
Vale's Minas Centrais mine in Brazil is expected to produce 19.52mt of iron ore in 2021.
19. Mikhailovsky GOK
Metalloinvest's Mikhailovsky GOK is expected to produce 18.63mt of ore in 2021. Mikhailovsky GOK was the first in Russia to use hematite concentrate, a technology based on the use of flotation plants that reduces damming tailings and increases production without additional iron ore extraction.
20. Carol Lake
Completing the list is Rio Tinto's Carol Lake, Canada's largest open-pit iron ore mine, located in the eastern province of Newfoundland (Newfoundland and Labrador). Carol Lake was projected to produce 16.41mt of iron ore in 2021.
Dust suppression and soil stabilization solutions for iron ore mines
Iron mining can be conducted either open pit or underground and, like most mining activities, this gives rise to various types of pollution and dust emissions. Dust emissions deteriorate the health of operators, neighboring communities, and the environment. For this reason, the authorities require mining companies to monitor dust concentrations and install dust suppression measures and systems.
Dust suppression systems are installed in mining operations to reduce the spread of dangerous fine particles in the air. Soil stabilization helps mines stabilize their access roads in the various stages of ore processing and material transport. Well-paved roads reduce energy consumption, vehicle and road maintenance costs, and avoid road-related air pollution.
Comprehensive dust suppression system
A complete suppression system considers the use of particle monitoring systems to enable and optimize various dust control techniques and practices. Among the dust control techniques is the use of controlled irrigation, which contains water and active agents that bind to the dust particles in the air, keeping them on the surface and clumping them to the ground.
Other systems used are dry mist, foam and dust collectors. At points where the dust also contains useful minerals, it can be fed back into the process to extract the minerals by different methods.
Specialized Mining Dust Suppression Solutions


Soil stabilization
Soil stabilization helps mines stabilize their access roads for easier transport of ore and waste rock. Due to the remoteness of mine sites and mine fronts, stabilizers are required that can produce results using locally available materials that are highly effective and require low water consumption and specialized equipment.
Soil Stabilization Solutions for Mining Roads
Conclusion
Iron occupies an important place in our society. Today, it is used extensively for the production of steel, a metal alloy for the production of tools, machinery, transport vehicles (cars, ships, etc.), as a structural element in bridges, buildings, and a multitude of other applications.
Iron mining will continue to flourish with better safety equipment and more advanced technology. These advances in technology greatly reduce the pollution caused by mining operations!