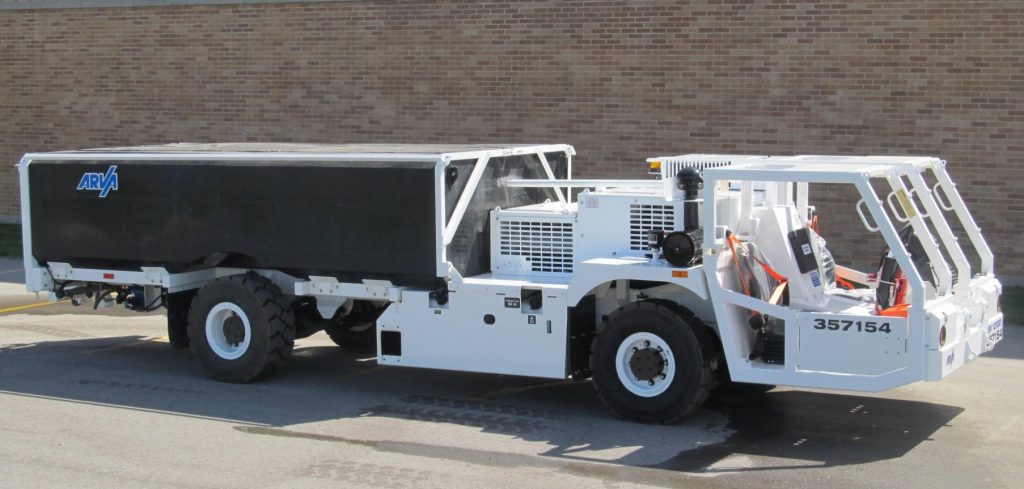 ABCDust has products and equipment to suppress dust and stabilize underground roadways, improving road conditions, without jeopardizing the safety of braking conditions. Our line of suppressors for underground works do not require the sun to cure, nor do they generate over-wetting conditions, generating slippery conditions. Our products reduce the need for irrigation on the underground road, reducing PM10 levels and Co2 emissions caused by road maintenance equipment.
ABCDust has alliances and direct relationships with OEM companies that manufacture trucks and parts in detail, under OEM standards. ABCDust works with these companies to provide our customers optimized solutions to their operational conditions. Below we detail the water tank we recommend for dust suppression programs in underground operations.
Length
8,091 mm (318 9/16 in.) (without lugs)
8,244 mm (324 9/16 in.) (with lugs)

Weight
Standard Travel Mode: (empty water tank)
Front Axle: 3,873.7 kg (8,540 lb.)
Rear Axle: 2,975.6 kg (6,560 lb.)
Total: 6,867.4 kg (15,140 lb.)

Width
2,083 mm (82 in.)
Ground clearance
267 mm (10.5 in.) (rear suspension to ground)
Height
1,829 mm (72 in.) cab (overall, ride height)
Travel speed
First Gear – 7.1 km/h (4.4 mph)
Second Gear – 10.8 km/h (6.7 mph)
Third Gear – 23.6 km/h (14.7 mph)
Fourth Gear – 31.9 km/h (19.8 mph)
Overdrive – 42.5 km/h (26.4 mph)

Wheel base
3,810 mm (150 in.)
Track width
1,711 mm (67-3/16 in.)
Tires
Rear
Rim Size – 11 in. x 15 in.
Tire Size – 14.5 l x 15 NHS
Front
Rim Size – 7.5 in. x 15 in.
Tire Size – 10.00 l x 15 NHS

Cab
ROPS certified canopy and an adjustable operator's seat.
Electric system
12 VDC and 60 amp alternator.
Turning radius (outside)
2-Wheel Steer: 12,548 mm (494 in.)
4-Wheel Steer: 8,788 mm (346 in.)