Portable airborne particle counters
We offer different multichannel handheld particle counters, able to measure measures between 0.3 μm to 25.0 μm with a flow rate of 0.1 CFM (2.83 LPM).
Firstly, it is easy to configure, up to 6 user-selectable size channels as well as temperature and relative humidity. Also, you can view data and generate standardized reports on screen or via a printer, USB key, in real-time through its versatile output options, or export to the unit data-download software. The 8306 particle counters can be controlled and monitored remotely via a web browser. Besides, the 8306 mass concentration mode approximates density in μg/m³ and allows for density and refractive index corrections to ensure accuracy.
Finally, saturation point 20 times more than industry standard with 40x processing capacity. Max concentration up to 150 mg/m3 for short monitoring periods.
Applications: You can use these particle counters as indoor air quality and ambient air quality audits for a wide range of industries and applications such as hospitals, pharmaceuticals, electronics, mining facilities, forestry facilities, and industrial facilities with direct or indirect emissions sources.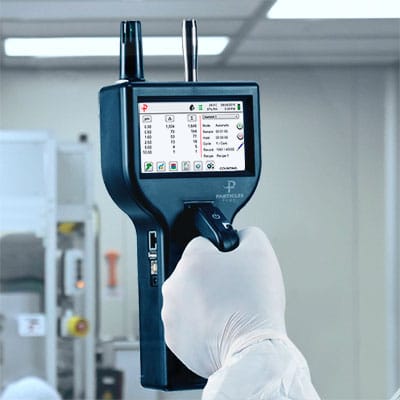 | | |
| --- | --- |
| Size Range | 0.3 to 25μm |
| Size Channels | Factory calibrated at 0.3, 0.5, 1.0, 2.5, 5.0, 10.0 μm variable binning |
| Flow rates | 0.1 CFM (2.83 LPM) |
| Concentration Limit | 4,000,000 Particles/ft³ @ 5% coincidence loss |
| Battery Run Time | 10 hours |
| Light Source | Long life laser diode |
| Counting Efficiency | 50% @ 0.3 μm; 100% for particles >0.45 μm per JIS |
| Zero Count | <1 count / 5 minutes (<2 particles / ft³) (per ISO 21501-4 & JIS) |
| Count Modes | Automatic, manual, real-time meter, cumulative/differential, mass concentration, count or concentration |
| Count Alarms | 1 to 9,999,999 counts |
| Calibration | NIST traceable |
| Display | 4.3″ (10.9 cm) WQVGA (480×272) colour touchscreen |
| Printer (Optional) | External thermal printer |
| Vacuum Source | Internal pump with automatic flow control |
| Filtered Exhaust | Internal HEPA filter |
| Number of Channels | 6 |
| Custom Size Channels | Calibration for custom size channels available |
| Audible Alarm | Adjustable built-in alarm |
| Battery | Removable Li-ion |
| Battery Recharge Time | 4 hours within instrument (<2 hours with external battery charger) |
| Reports | ISO 14644-1, EU GMP Annex 1, FS 209E |
| Recipes | 50 user-configurable recipes |
| Communication Modes | Ethernet and USB |
| Optional Communication Modes | Wireless 802.11 b/g, RS485 or RS232 |
| Environmental Sensor | Includes temperature and relative humidity probe 32º to 122ºF (0º to 50ºC) ±1ºF (0.5ºC), 15-90% ±2% relative humidity |
| Alarm | Alarms on counts for all particle sizes, low battery, sensor failure, environmental sensors and flow |
| Standards | ISO 21501-4 and JIS B9921 |
| Calibration | Recommended minimum once per year |
| External Surface | High impact injection moulded plastic |
| Dimensions (L x W x H) | 10" x 5" x 4.5" (25.4 cm x 12.9 cm x 11.4 cm) includes handle and does not include probes |
| Weight | 2.2 lb (1.0 kg) |
| Accessories | Quick start guide, operating manual on USB flash drive, isokinetic probe, temperature relative humidity sensor, purge filter, battery, data download software, USB cable, power supply & cable |
| Optional Accessories | The printed manual, carrying case, spare battery, external battery charger, external printer and isokinetic probes |
| Buffer Memory | 45,000 sample records (rotating buffer) including particle count data, environmental data, locations and times. Scrollable on screen or printout |
| Sample Locations | Up to 1,000 locations 20 characters long |
| Sample Time | 1 second to 99 hours |
| Power | 110 to 240 VAC 50/60 Hz universal in-line power supply |
| Operating Conditions | 41º to 104ºF (5º to 40ºC) / 20% to 95% non-condensing |
| Storage Conditions | 32º to 122ºF (0º to 50ºC) / Up to 98% non-condensing |
| Warranty | 2 Years. Extended warranties are available. |