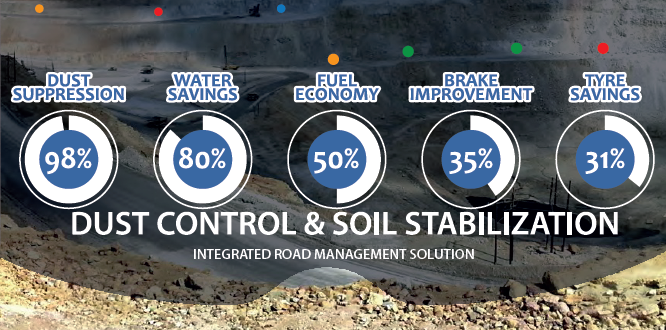 ABC Dust's DMS Haul Roads Dust Control and Stabilization solutions are nontoxic & environmentally friendly. ABCDust´s products are applied following international best practices and safe protocols  in conjunction with state-of-the-art sensors to measure PM10-2.5 emissions; levels of friction, water consumption and dust suppressors to measure the performance of our solutions in terms of efficiency of suppression and road safety in a simple and objective manner.
ABCDust´s DMS meassured performance in ramps with a strong slope and 600 Ton CATs high traffic is:
Efficient suppression of PM10-2.5 of 95-99% with respect to baseline
Reduction of water use of 80-90% to the target efficiency level
Fuel savings between 30-50%
Simple and safe application protocol, No accidents registered.
Seal suppressor resistant to 600 Tons CAEX transit in extreme mining site conditions
Can be applied at low temperatures
It is not corrosive, nor toxic in time
Safe and efficient option for the substitution of chloride salts and bituminous emulsions.
Reduction of braking distances of 35-80% in mining roads with high slope and CAEX CAT 797 F loaded (600 Tons) in haul-roads ramps and curves
For more information about our solutions and experience, or to request a quote, write us to info@abcdust.net, and we will get back to you shortly!