DESCRIPTION
DMS-DS® is a highly effective dust suppressant, designed for mining roads, Haul Roads, high mountains and high tonnage cargo (600 TON). DMS-DS® is composed of a proprietary blend of surfactants, 0.25-micron nano-polymers and alcohols. DMS-DS® generates a dust suppression effect which eliminates 95-98% of the PM10-2.5 issued and improves braking distances by 35-82% compared to roads moistened with water.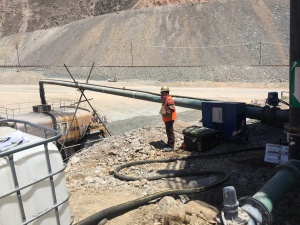 DMS-DS®  is also used as a dust suppressor for underground mining roads, belts and material loading and unloading points.
DMS-DS® is added to water trucks tank loaded with water, mixed and applied topically or mix-in. Improves dust control, braking conditions and reduces water consumption by up to 90%, reducing the costs associated with road irrigation and maintenance.
HYGROSCOPIC WETTING EFFECT
DMS-DS®  has a hygroscopic effect several times higher than chloride salts, which allows it to retain moisture on the road with a low dose, prolonging its effect. Which is combining with binders polymers that bind the material and improve the surface friction conditions of the road course.
FOAMING EFFECT
Producing flexible and low surface tension foam to reduce the humidity and prolong the effect.
ADHESION EFFECT
Making the forming foam together to form microlayers overlapping each other, with each application.
MAIN ATTRIBUTES & CHARACTERISTICS
Reduce dust levels up to 95-99%
Improve road braking distance, improving road safety.
Improve rolling resistance, reducing fuel consumption
Non-toxic & non-corrosive product
Water and UV resistant
Acid and alkaline waters resistant
Non-ionic
Transparent when dried – No Stains
Highly concentrated
DOSIFICATION
ABCDust has developed a table of dosages according to the type of soil, traffic and climatic conditions to determine the doses and the most convenient and effective product for the goals of dust suppression and soil stabilization. Contact us to determine the proper doses for your dust control needs.
SHELF LIFE
Best before 12 months
SHIPPING AND HANDLING
DMS-DS® is supplied in 1.000 L drums or IBC drums. The product should be stored in a cool place out of direct sunlight.
HEALTH AND SAFETY
DMS-DS®  has some surfactant & preservative properties and as such contact with eyes and prolonged contact with skin should be avoided. Safety glasses or goggles; gloves and respiratory masks are recommended, when handling the product. Detailed information on handling and any precautions to be observed in the use of the product(s) described in this leaflet can be found in our relevant Health and Safety information sheet.
WARRANTY
The information contained in this leaflet is given in good faith, but no liability is assumed nor is freedom from any intellectual property owned by ABCDust. This information should not be taken to represent a specification for the product.
CONTACT US TO DETERMINE THE BEST PRODUCT AND ITS DOSAGE FOR YOUR NEEDS, PREVENT SILICOSIS, SAVE WATER AND IMPROVE THE PRODUCTIVITY AND SECURITY OF YOUR WORKPLACE!